The Leader of the Council
Councillor Tim Gwilliam is the Leader of the Council. His role is to have overall responsibility for the vision and corporate objectives of the council. He is the principal spokesperson for us and represents our views to the public and other organisations we work with. His term as Leader runs until May 2023.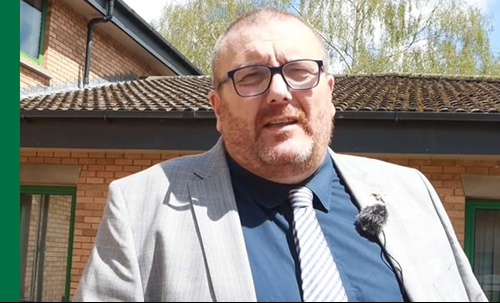 Biography
I am, and always will be, a Berry Hill lad but actually now live just outside Britain's finest village on the Staunton Road out of Coleford.
I always paid attention to politics even when at school. I was a trade Unionist in my employment. When news of the somewhat controversial purchase of our leisure centre by Homes England was announced in 2011 and 2012 it encouraged me to get up off the sofa and the keyboard and actually start trying to do something about it. I wanted to improve the way the council engaged with local communities so their voice was heard.
After a couple of years on West Dean Parish Council, I stood for election in February 2013 as a Labour Candidate following the very sad and untimely passing of Cllr Helen Stewart, who happened to be my Dads neighbour. I was honoured to win that seat both for Helen and my Dad who was an ex freeminer and had also passed away just months before the election. In early 2017 three councillors and myself left the Labour Party and formed The Forest First Independent Alliance. In the July of that year, in what even now seems a remarkable and astonishing sequence of events, two days after having heart surgery I became Leader of the District Council.
I used to love to play sport, including football, cricket and rugby until a combination of age, ill health, a wonky spine, a dodgy ticker and a lack of ability finally caught up with me at various points. I like to cook and I actually relax by attempting to write poetry, in Forest dialect with a Forest theme. My wife and I are kept in the sporting loop by doing the Saturday and Sunday morning parental rituals of football and cricket with our youngest and we also go to watch our team Liverpool at Anfield when we can get tickets. Our eldest son is an actor and producer so some culture is thrown in when we go to watch him perform.
Priorities for the Leader
As Leader of the Council I want to make the Forest of Dean a place where young people can have aspirations, where ambition isn't confined to other parts of the county or the country. A place that is more than just a pretty area and not just a playground or a housing site.
Instead I want to see a thriving community with all the benefits a place like this can offer but that is genuinely affordable for Forest residents. I want it to be a place for the young and the old of The Forest to thrive and enjoy.
I want to continue to work with all Councillors to achieve this, I want us to be Team Forest. I will always be open to people who oppose and hold us to account but ideally I want people to work with us, help us and advise us. We can achieve so much by working together and by listening to our communities and I think we can aim really high for the Forest.
Financial allowances
Councillor Gwilliam gets a basic allowance and a Leader's special responsibility allowance. Find out more about councillor allowances and their code of conduct.
Related Pages